Description
Important!  Any shadowing that you see in these pictures is just that, a shadow from our unprofessional lighting.  Each page is clean and in "like new" condition, no marks or tears.
6 Pen and Wash Sketches of Cats by three Oriental artists, Le Ba Dang, Deshima and Yeisha. Copywrite 1957 by Norever Publishing Co. Fine condition, measuring 14″ x 17″. Buyer pays for shipping.
Le Ba Dang (1921-2015)
From Park West Gallery:
Dang was born in 1921 in the province of Quang Tri, and moved to Paris in 1939 where he joined the army to fight against German fascism. He was captured and held in a Nazi prison camp and after his release studied at the Ecole des Beaux-Arts in Tolouse for six years. His first solo show was in 1950.
Dang's first marketing success was painting cats onto ceramic plates, which are sought-out items to this day. Following a show at the Cincinnati Art Museum in the 1960s, Dang wanted to create new and exciting art and used oil paints to create large-scale abstract works. The artwork contained vivid blues and puddles of orange and red, and proved popular with tourists and collectors alike, further cementing him as serious artist.
Dang's innovations included the use of foam board, cutting out intricate designs with a knife and placing the foam between pieces of glass to form patterns and effects as light shines through them. Dang also worked in printmaking, terra cotta and a variety of other media.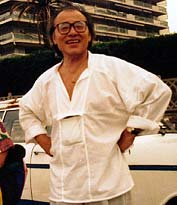 Each work speaks to the relationship of nature and man. His works also hint at his memories of growing up in Vietnam, with outlines of boats and bridges, as well as his experiences with the army.
Dang's "signature" acted as a logo, closely resembling the calligrapher's red square seal of a Chinese Song dynasty's hand scroll. Their size, shape, and color are virtually identical.
Dang used his success to rebuild his devastated village in Vietnam, and was honored by his home country with a Le Ba Dang foundation and museum.
The artist split his time between Viet Nam and Paris, claiming that one day he would retire. His his creativity continued to flourish even in his 90s.
His accomplishments include an award from the International Institute of St. Louis in 1989 and a medal of recognition of artistic and cultural contributions by the French government in 1994.
Save